June 14, 2017 6:28 am
Your Guide to A Trendsetting Summer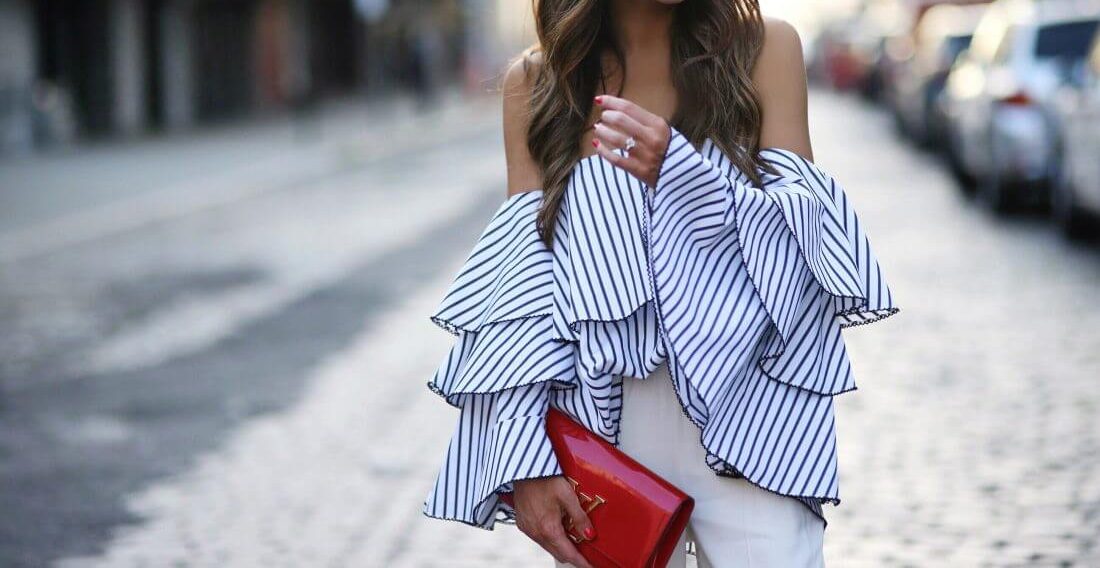 As warm temps have somewhat become a norm, and the official start of summer is upon us… It's time we get familiar with the "It" trends of Summer '17. Let's talk about how to incorporate these summer trends into our wardrobe while adding to our personal style.
First things first, if isn't you then it just won't do. Stick to trends that you know you will be confident in! Trends come and go, but they can amp up your personal style in fun new ways for the season. But, only choose the trend if it's in the realm of your style. If you don't, you won't be wearing the clothes rather the clothes will be wearing you.
Now onto the fun stuff, the trends…
The most popular and probably most fitting trends of the season are Off-The-Shoulder, One Shoulder, Shoulder Cut-Outs and Frills:
Incorporating this summer trend into your personal style is a breeze. Simply pick an off-the-shoulder top that immediately draws you in and pair it with a pair of denim jeans (skinny fit or wide legged), or shorts, and one staple accessory (like a bold pair of sunglasses or a contrasting shoulder bag).
You could also pair it with a flowy midi or maxi skirt, wide legged pants, wide cut shorts, or even culottes. Depending on if you're going casual or dressy, these tops go perfect with sneakers or heels.
P.S. an even simpler way to incorporate this trend into your personal style this summer is by opting for an off-the-shoulder dress. See how effortless this can be below…
Also on trend for the summer are, Statement Stripes:
Want to make a real statement this summer? Incorporate this trend into your summer wardrobe by going for stripes-on-stripes! As you may have notice from the pictures above, some go for matching stripes and others mix-and-match their stripes.  Some style pros even mix-and-match their strips with bright embroidered or graphic print pieces. You could also just go for stripes on top, or on bottom and still make a statement by adding touches of your personal style through your choice of shoe, eyewear, arm candy or bag!
You may also notice that some trends come in 2-for-1's. Some of the pictures chosen to help inspire your summer style choices have off-the-shoulder tops in stripes or florals.
Which brings me to the next trend of the summer, Head-to Toe Florals:
The same idea goes here as it does for the Statement Stripes. Go for this statement making trend this summer and do print-on-print. You can also mix-and match your florals here too! If you're not ready to go all in, again, pick a top or bottom floral print. Then, pair it with a solid color (likely white) off-the-shoulder top or a flowy maxi skirt. There are many other ways you can create outfits with separates, these are simply suggestions to help get you started.
Last, but not least, Super Brights are on trend this summer:
The trend within the trends seem to be the head-to-toe trend. As with the stripes and floral trend, you can make a style statement by wearing head-to-toe super bright colors this summer. Or, again, go for a bright piece on top or on bottom. Your super bright could also be an accented accessory like earrings, bags or eyewear.
Now, my advice would be to invest in just a few of these trends because, as I said before, these trends come and they go. I'm not too big on spending my hard earned money on items that I can't wear over and over again in revamped outfits, so I tend to only invest in one or two of the latest trends.
So, your two most important takeaways for this year's summer style are:
If it isn't you, it just won't do. Stick to the trends that you know you will wear, and can successfully incorporate into your wardrobe and personal style. Otherwise, you won't wear them with confidence and style true to you.
 Only invest in one or two of these trends, three tops, because if you're anything like me I like to be stylish and get my moneys worth; i.e. these trends go out of style fast so don't invest too much into trends.
Finally, and perhaps the most important, please don't try to wear all these trends at once. As I said before, some of these trends already come designed in 2-for-1 trends, but if you feel like you are overdoing it then you probably are. If you're new to this, take on one trend at a time.
Personal style takes time, growth, and trial and error. Practice pre-styling your outfits and you will be a style-pro in no time.
Style on loves!
X.O.
Tashima S.